Do you have a question about Certified Locksmith or automotive Locksmith issues? If so, the following are the answers to common questions and useful information that will provide you with a better understanding of who we are and how we can help you.
Q:
My car has a "Chip" Key. What does this mean? Do I have to go back to the dealership to get a copy?
A:
What is commonly called a "Chip" Key is actually a transponder key. This is an anti-theft device used to prohibit unauthorized operation of your vehicle. One of the first introduced to the market was called a V.A.T.S. key by GM.(pictured below)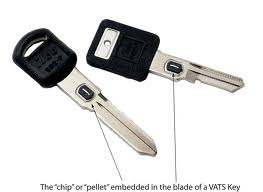 The next stage was introduced by Ford called P.A.T.S.(pictured below)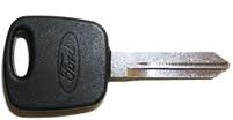 Since then the keys have evolved over time. Basically the "Chip" is like a password to the cars computer. If the key does not have the correct "password" for the vehicle it will not start. Even if the mechanical part of the key is correct. (i.e. key turns in the lock.) Certified Locksmith can duplicate most all transponder keys both in our shop and in the field. There is normally not a need to go back to the dealer if you need a duplicate or even lose your keys all together. Our technicians have the equipment and knowledge to generate most automobile keys from scratch to get you back on the road quickly. Even though these types of keys are more expensive to duplicate it is suggested that you have at least two. Call or stop by for a free quote.
Q:
How do I know if my vehicle has a "Chip" Key?
A:
Sometimes it is very hard to tell unless the key you use is just a plain metal head. The transponder can be concealed in the rubber head of original keys and is almost undetectable. Below are cut-a-way images of "Chip" keys: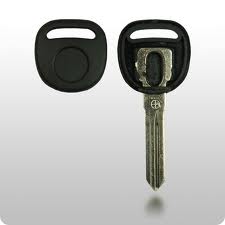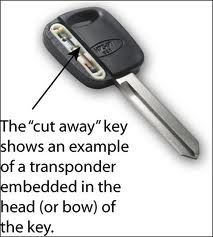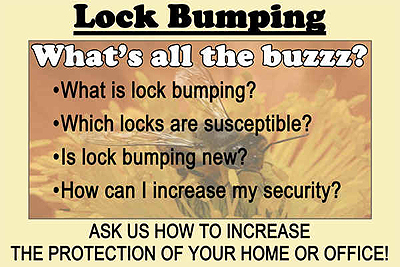 Q:I found a key on the internet for my car that is a "Chip" key. Is it cheaper to buy the blank and have it cut or just get the key from the dealer or locksmith?
A:"Buyer Beware" We never suggest to someone to purchase a "Chip" key off the internet. We have seen customers do this and the key they purchased either had a faulty "Chip" or it had been removed and the key was no good. So what appeared to be a deal wasn't. At Certified Locksmith we charge the same rate to cut and program the key even if you have the blank. We will not guarantee your key to work unless the blank comes from us. Most of the time it is less expensive to buy the key directly from us and it is always less aggravation. Generally we will beat the dealership on overall cost. We quote one price for a "Chip" key unlike most dealerships that split it as one price for the key and second price to program it.
Q:
My key does not insert or withdraw easily or it has difficulty turning.
A:
 First spray the lock with a light penetrating oil (such as WD-40). This oil can be found at most hardware stores, some drug stores and supermarkets. Don't be afraid to spray too much lubricant, but have a paper towel handy to pick up the excess. Spray the oil into the keyhole and onto the bolt mechanism. Move the bolt in and out to allow the oil to penetrate into the lock. Do not take the lock apart if you are not confident you can put it back together.
Q:
The lock doesn't lock and unlock smoothly.
A:
After you have tried the lubrication solution, check to see it the lock operates smoothly with the door open. If it does, your lock problem is not in the lock, but rather in the alignment of the door and frame. Look for obstructions at the threshold and in the doorjamb. Also check the door and frame for twists and warps. The door should completely rest against the doorstop and stay there. If the door rests at the stop at the top or bottom only then the door or frame is twisted. If the door springs open then the hinges are probably binding. If you have a weather-strip on the door, it could be obstructing the path of the door. Keep in mind, wooden doors and frames will warp and swell with temperature and humidity, and metal doors and frames will twist and rust with age.
Q:
I have lost my car keys.
A:
Sometimes a key code is available. You will only have access to this code if you are the original buyer of the car. This code is typically written on the original bill of sale, which you may have or the car dealership may have. Rarely, these codes are written on the cover of the owner's manual. So check there as well. A key by code can save you money over having a key fitted to the car on-site. Expect to pay from fifteen to fifty dollars for a key by code.
Q:
What is a "Laser" cut key?
A:
his is a special high security key used by automobile manufactures and is becoming more and more popular. It was mostly used in more expensive models. In 2012 several GM and Ford models are going to this key style. They include high end models as well as basic models. Certified locksmith can duplicate most all laser style keys. We can also code cut laser keys in the event you lose your key totally. Below are some examples of a Laser Key: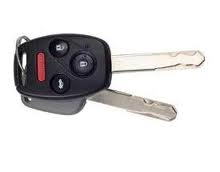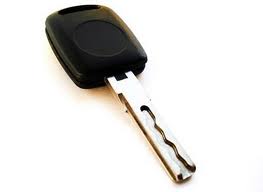 Q:
I have a Chrysler product and need a duplicate but my car doesn't use a key. Can you duplicate it?
A:
Does your key look like this?: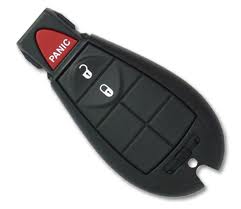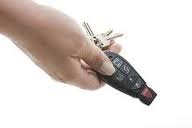 Yes, we can duplicate your key. Just bring all the working keys you have now and the vehicle to our shop, so we can program them. We can also generate new keys in the event you have lost all working keys.
Q:
Why do I have to wiggle my keys in the lock to make it work?
A:
As locks age over time, the pins in a lock cylinder tend to "wear" down causing your keys to stick and forcing you to "jiggle or wiggle" the key in the lock to make it work. Most likely the keys you were given have probably been "copied" several times and this, plus lock wear, can cause your lock to act like it is breaking.
Our dispatchers are ready to assist you right now!
Our technicians are waiting for your call!
Call us right now at: 336-431-7777


Your satisfaction is the key to our success!