Do you have a question about Certified Locksmith or general Locksmith issues? If so, the following are the answers to common questions and useful information that will provide you with a better understanding of who we are and how we can help you.
Q:
Why should I use a professional locksmith company?
A:
Skilled professional locksmiths bring experience and fund of knowledge in lock, safe & security problems and are better prepared to solve security issues to your unique situation. Professional locksmith can prescribe state-of-the-art products that work, and more effective solutions in an efficient manner.
Q:
Why Certified Locksmith?
A:
Certified Locksmith is licensed bonded and insured, we use experienced teams of well-trained professional technicians, fully licensed and equipped with the most advanced tools. We operate, provide Day/Night Service and will be at your location promptly.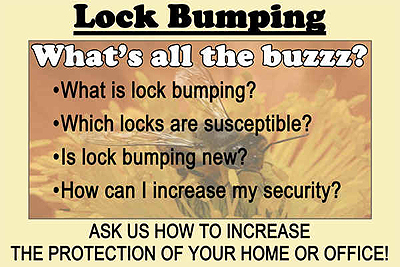 Our client profile includes.
Retail businesses
Franchises
Factory outlet chain stores
Commercial and industrial businesses
Government agencies - Federal, State, and Local
Hospitals, health care services, and medical office buildings
Restaurants
Banks and Credit Unions
Churches
Schools
Day care centers
Property management
Realtors
General contractors and builders
Convenience stores
Gas stations
Q:
I have a key marked "Do Not Duplicate." Can I get a copy of it anyway?
A:
Keys marked "Do Not Duplicate," " Do Not Copy," or "Unlawful to Copy" may be duplicated only if a letter of authorization from the owner or supervisor is presented with the request for duplication. The letter should be on company letterhead and identify the key to be made, the number of keys, the person picking up the keys, and the name and number of the person writing the letter. The person picking up the keys will be required to fill out a "Request for Restricted Keys" form. We reserve the right to refuse to duplicate any key marked "Do Not Duplicate."
Q:
My key does not insert or withdraw easily or it has difficulty turning.
A:
 First spray the lock with a light penetrating oil (such as WD-40). This oil can be found at most hardware stores, some drug stores and supermarkets. Don't be afraid to spray too much lubricant, but have a paper towel handy to pick up the excess. Spray the oil into the keyhole and onto the bolt mechanism. Move the bolt in and out to allow the oil to penetrate into the lock. Do not take the lock apart if you are not confident you can put it back together.
Q:
The lock doesn't lock and unlock smoothly.
A:
After you have tried the lubrication solution, check to see it the lock operates smoothly with the door open. If it does, your lock problem is not in the lock, but rather in the alignment of the door and frame. Look for obstructions at the threshold and in the doorjamb. Also check the door and frame for twists and warps. The door should completely rest against the doorstop and stay there. If the door rests at the stop at the top or bottom only then the door or frame is twisted. If the door springs open then the hinges are probably binding. If you have a weather-strip on the door, it could be obstructing the path of the door. Keep in mind, wooden doors and frames will warp and swell with temperature and humidity, and metal doors and frames will twist and rust with age.
Q:
Can I buy lock-opening tools?
A:
 No, it is illegal in most states to sell or possess burglary or entry tools. Certified Locksmith will not sell entry tools to anyone.
Q:
Is there such a thing as a key that can open all locks?
A:
No. A "master" key is a key, which works many locks. In order for a particular master key to work in a lock, the lock has to be set up to work on that master key. Locks are typically master keyed in hotels, office buildings, and schools. Rest assured that there is no such master key that opens all locks.
Q:
How a lock cylinder works?
A: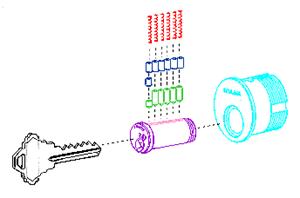 Q:
Why do I have to wiggle my keys in the lock to make it work?
A:
As locks age over time, the pins in a lock cylinder tend to "wear" down causing your keys to stick and forcing you to "jiggle or wiggle" the key in the lock to make it work. Most likely the keys you were given have probably been "copied" several times and this, plus lock wear, can cause your lock to act like it is breaking.
Q:
What is Lock "Bumping" ?
A:
Lock Bumping is an old technique used by locksmiths to open locks that may have internal failures. Lock "Bumping" has gained attention because of the lack of specialized tools needed and the free exchange of information over the internet.
Learn More.
Our dispatchers are ready to assist you right now!
Our technicians are waiting for your call!
Call us right now at: 336-431-7777


Your satisfaction is the key to our success!