"The Threat of Bump Keys!"
You may have never heard of a bump key, but you can be sure that the bad guys have. Bump keys enable a would-be thief to open a door or similar lock in seconds with no special tools. Lock picks are nothing new, but bump keys possess a deviant twist: they can be made in just a few minutes with no special tools, and they are made from any common key. Once a bump key is obtained, it will open almost any lock that the key can physically slide into. In America, almost all the locks sold in hardware stores can be opened with just two different bump keys. The method of opening these locks with a bump key is easily learned, and takes only a little skill. This is why the bump key threat is a growing problem to millions of homes and businesses in America and worldwide.
The information on how to make them, and the sale of them appear all over the internet, and as a result the problem affects locks all over the world. The first country to report crimes committed with a bump key was Germany, where the problem is widespread. Recently many media sources have shown stories highlighting the dangers of
"Bump Keys"
; there are video sharing websites showing people opening their own doors in seconds with a bump key. There are even
websites
set up internationally
selling these burglary tools.
According to statistics provided by the National Crime Prevention Council (NCPC) and the Department of Justice,
nearly 2/3 of all break-ins occur with no sign of forced entry.
While some of these crimes may be a result of an unlocked door, most experts agree that lock bumping, picking or use of an unauthorized duplicate key are often the case.
EBay has strict rules against selling bump keys and removes the items when found online or when a consumer reports the bump key to eBay.
Do you have a key on your key ring that looks like one of these?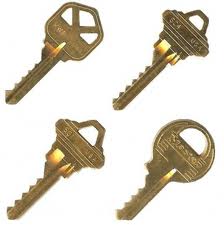 If your answer is, "Yes." Then your lock can probably be defeated by "Bump Keys". (The image is of 4 commonly found "Bump Keys".)

The bump key threat is real and the time is now to be informed about the problem and have the opportunity to do something about it. It is NOT Certified Locksmith's intent to encourage fear for profit in releasing this information to you. We felt it irresponsible to not inform the general public of this threat as it is all over the internet and readily accessible to anyone with a basic internet connection. We are simply trying to educate the public so they have the opportunity to do something about it before you fall prey to it.

Certified Locksmith offers several High Security style locks that can offer a greater protection against this threat. Below are links to the two most popular systems:

Mul-T-Lock

Schlage Primus



Our dispatchers are ready to assist you right now!
Our technicians are waiting for your call!
Call us right now at: 336-431-7777


Your satisfaction is the key to our success!