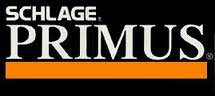 Facilities have long been challenged by the security problems resulting from unauthorized key duplication. The solution to these problems are usually expensive, requiring the total replacement of all cylinders in order to maintain the integrity of a key system and regain key control. The Schlage Primus High Security Cylinder System is the answer.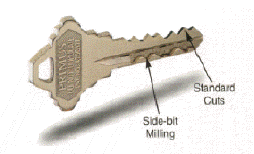 Patent Protected Primus Key The Primus with its unique patented Side-Bit Milling is rigidly controlled. Only the Schlage factory cuts the side-bit milling on the special key blanks. These key blanks are issued to specific Primus Center locksmiths for the duplication of keys. This feature successfully protects against the unauthorized duplication of keys.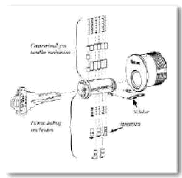 DUAL LOCKING CYLINDERS

In addition to a conventional pin tumbler mechanism, Schlage Primus cylinder use five fingerpins which interface with the side-bit milling to unlock a separate sidebar assembly. The combination of these two locking technologies, operated by a single Primus key, is the basis of the Dual-Locking cylinder and virtually eliminates lock picking.


EASY TO INCORPORATE INTO AN EXISTING SCHLAGE KEY SYSTEM

Primus cylinders are compatible with most Schlage key systems. A simple and cost affective way to enhance security and key control.

SINGLE KEY CONTROL OF YOUR FACILITY

Primus cylinders are available in High Security U.L. Listed and Controlled Access versions. The U.L. listed cylinder features strategically placed hardened rods to resist drilling for installations where concern for physical attack is a consideration. Both versions use the same dual-locking mechanism and unique Primus key. For flexibility, Primus cylinders may be combined with conventional Schlage pin tumbler cylinders in one Single Key system. For added security in key control, the Primus key is engineered to ensure a selected standard key will not enter the Primus cylinder. The feature allows a single key system without compromise of security or key control.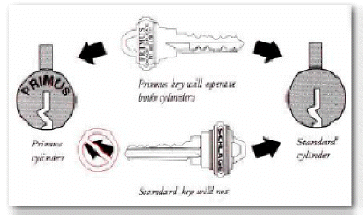 I.D. CARD CONTROL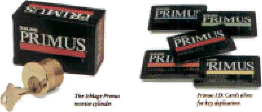 Only authorized Primus Center locksmiths have access to the special side-bite milling key blanks. Keys and service are only available to the owner or manager upon presentation of the appropriate Primus I.D. Card.
SINGLE SOURCE ADVANTAGE

Quality Schlage locks with Schlage high security cylinders. Primus cylinders are available for most commercial hardware and can even be placed in certain padlocks.

The Schlage Primus system can meet any of your keying requirements from the simplest keying to the most complex masterkey systems with safety, security and key control.
Our dispatchers are ready to assist you right now!
Our technicians are waiting for your call!
Call us right now at: 336-431-7777


Your satisfaction is the key to our success!