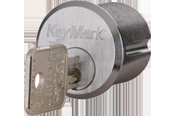 KeyControl:
Do you know where all of the keys to your business are? Unfortunately, even if your ex-employees turned in their keys when leaving your company, you have no way of knowing if duplicates were made. In fact even an honest employee may have a not-so-honest roommate or friend who can easily duplicate a key without the employee's knowledge. And we all know that a key stamped "Do Not Duplicate" does little to prevent actual copies being made. This opens up a significant security risk for your business. The Keymark X4 solves this by making the keys themselves restricted. When a locksmith installs the Keymark X4 system at your business, only that locksmith has access to the key blanks that fit in your locks. Now if an employee takes the key to the local hardware store for duplication, the hardware store simply cannot make a copy because they do not have access to the key blanks. This ensures that you, the business owner or manager, know exactly who has keys to your business.
Security:
Lock picking and bumping has been in the news often lately. The Keymark X4 is classified as a high security lock and has many features to resist unwarranted entry. Not only is the lock highly resistant to picking or bumping, but special ball bearings and plates in the casing prevent drilling and the latch is built to withstand extreme prying or forcing.
Flexibility:
While many high security locks offer key control and various security upgrades, the Keymark X4 goes a step further by offering cylinders to fit a variety of applications beyond the standard, traditional locks. The Keymark comes in both small and large format interchangable cores (contact Certified Locksmith to learn the benefits of interchangable core locks). This allows a business that typically needed a key for their front door, a different key for their small format interchangable core office door, and another key for their large format interchangable core cabinet lock, to combine all of these keys onto one keyway. Couple this with a Master Key system and you have a key system in your office that offers you the great flexibility and control.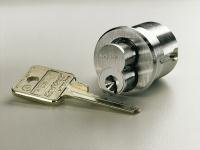 Our dispatchers are ready to assist you right now!
Our technicians are waiting for your call!
Call us right now at: 336-431-7777


Your satisfaction is the key to our success!