Facilities have long been challenged by the security problems resulting from unauthorized key duplication. The solution to this problem is usually expensive. The Schlage Everest High Security Cylinder System offers an economical compromise. These keys can be copied but are more difficult and not easily located in D.I.Y. big box stores or most local hardware stores. Here at Certified Locksmith we keep in stock all of the available Everest Keyways. These keys are easily identifiable by their large head with the Schlage name. On the back of the key there is a number stamped near the bottom of the head. Available numbers start with a 'C'. To obtain a copy of the key a person must show a valid governmental picture identification card, (i.e. Driver's License) and sign an authorization form that will be retained by Certified Locksmith.
Pictured below are examples of Schlage Everest keys and cylinders. Note the symbol near the keyway of the lock.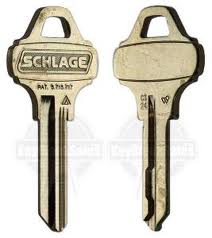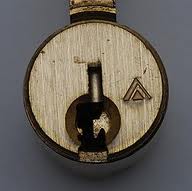 ** If your key has a laser engraved number on the back and starts with a different letter than 'C' it is probably a controlled blank only issued to the locksmith or end-user that has rights to the keyway and is only available through that contract holder. See picture below.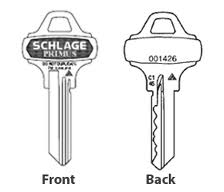 Our dispatchers are ready to assist you right now!
Our technicians are waiting for your call!
Call us right now at: 336-431-7777


Your satisfaction is the key to our success!