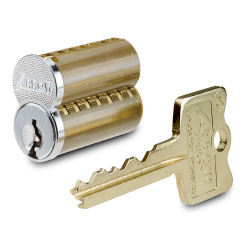 Arrow '61' System is an interchangeable core key system similar to the BEST Key system. Certified Locksmith is the only authorized dealer in the area that can copy this key. The key will look similar to the key above and will have the Arrow name along with the number 61 in the top left corner of the key head. To obtain a copy of the key a person must show a valid governmental picture identification card, (i.e. Driver's License) and sign an authorization form that will be retained by Certified Locksmith. If installed or rekeyed by Certified Locksmith these keys can only be copied by individuals pre-authorized by the customer.



Our dispatchers are ready to assist you right now!
Our technicians are waiting for your call!
Call us right now at: 336-431-7777


Your satisfaction is the key to our success!